When a natural disaster occurs, it's important to know how to protect yourself and your belongings. It's a good idea to know the basics in order to be safe and prepared.  Be sure to strap down your water heater so it meets safety codes. Consider hiring a professional plumber for this.  In California, when an earthquake strikes you'll need to identify the location of your home's water, gas and electric main shutoffs valves and switches.  Remove all flammable liquids from the living areas of your home. Put them in the garage or another outside storage area. To help prevent a fire, store them away from heat sources, such as a water heater or furnace. If your home has a chimney, consider securing it to the roof with sheet metal straps.  For flooding, in addition to sandbagging and other preventative measures, be sure to review your policy and know what's covered in the event of property damage. Also, make sure your septic tank and sewer are inspected and cleaned at the start of every season. During periods of heavy rainfall, clogged sewers and overtaxed septic tanks are a disaster waiting to happen. Consider installing a sump pump to drain out unwanted standing water.
There are a few helpful items to have in a disaster preparedness kit- such as blankets, clean clothes, flashlights and a respiratory mask, to name a few.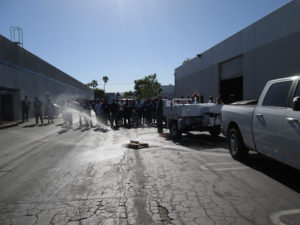 California: Are you ready for this? We are excited to inform you that Perma-liner Industries will be in town on December 6th– 8th for our Trenchless Tour!! We've been planning for three fun-filled days of Live Demonstrations in Concord. Every day will consist of different demos using our patented technology including Perma-Main™ Continuous Lining, Top Gun and Sectional Point Repair and much more. It's the educational event of the season and we'd like to see you there!!  Stay tuned for more info or go to www.perma-liner.com.