All Cities in California have separate pipelines for their underground sewer system and the collection of rain water and sanitary waste.  All except San Francisco, which has a combined sewer system.  Our City's heavy duty sewer capacity can treat more than 500 million gallons of sewage plus storm water.  This new and improved system can be credited for the best handling of overflows.  It has also minimized such instances dramatically, to as little as once a year.  Also to be commended are the efforts of our City to use green storm water management techniques to prevent pollutants from entering the bay.  The City collects wastes that cannot be treated at the Household Hazardous Waste Facility.  The vast participation in this eco-friendly program has heightened awareness and community involvement.
San Francisco, with all of our beautiful landscaping, rolling hills and valleys, Perma-liner has the right equipment for the job! Not only will we restore your underground pipelining at your residence, we'll keep your home intact, as well.  We have state of the art repair and rehabilitation systems which are Cured in Place and environmentally safe.  Call us or go online to www.perma-liner.com to see how we can help you.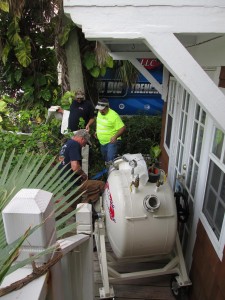 Save the Date!
Mark your calendars because you won't want to miss this!  On August 19th Perma-Liner Industries is hosting a very special event and we'd love to see you!!  We're having our Open House at our facility in Orange, CA. and it's sure to be a great time.  We'll have our excellent staff here to answer all of your questions about Cured-in-Place Pipeline products and our state of the art trenchless technology.  Come out and see live demonstrations, share friendly conversations and gain information.  Meals will be provided.  Please register at no cost: info@perma-liner.com or 1-866-336-2568.  Click Here to Register!